Welcome to the Town of Freedom
PUBLIC NOTICE – TOWN OFFICE REOPENING MONDAY, 5/10/21
The Freedom Town Office will be reopening its doors to the public beginning on Monday, May 10, 2021.  We greatly appreciate your support and willingness to work through these challenging times the pandemic has faced us all with.

For the health and safety of all, please observe and follow the requirements below:
Masks covering mouth and nose will be required to be worn by all patrons inside the building.  For your convenience, masks and sanitizer are available inside.
Anyone exhibiting symptoms of illness, or has had exposure to someone not feeling well, please do not enter the building and instead call the applicable department to make arrangements to retrieve the information you seek.
The lobby area will be limited to a capacity of 2-persons.  If more than 2-persons are already inside, please wait outside or in the foyer until someone leaves before entering the building.
Access into the Selectmen's Office, Town Clerk's Office, and Building Department is limited to Town personnel only, or at the discretion of the office staff.
Please also note department-specific contact information and requirements:
Selectmen's Office & Assessing
Office Hours: Monday – Thursday 8-3
Telephone: 539-6323
---
Town Clerk's Office
Office Hours: Monday 11-5, Tuesday 11-5, Wednesday 9-5, Thursday 11-5
Telephone: 539-8269
Appointments are recommended. Walk-ins will be accommodated accordingly. Online services recommended for all renewals without any changes, vital statistics request and dog licensing.
---
Tax Collector's Office
Office Hours:  Monday & Wednesday 11-1
Telephone:  539-5572
Tax payments may be dropped in the secure mail slot located in the Town Office foyer.  Please include a postage-paid, self-addressed envelope if you would like a receipt.
---
Building Department
Office Hours:  Thursdays 9-2
Telephone: 539-6323
Cell Phone:  Gary Williams, Zoning Officer: 986-0466
Cell Phone:  Dave Senecal, Building Inspector: 387-0866
---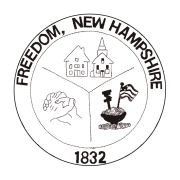 In between the Lakes Region and the White Mountain Region of NH, Freedom is a small town surrounding a little village. Take a walk through the village on a Saturday evening and you'll encounter few cars, but enjoy the white picket fences, well-kept homes and large barns that hint of the towns history.
Freedom? In 1831 the village of North Effingham voted to secede from Effingham, and in 1832, the new town celebrated its independence by changing its name to "Freedom".
For a tangible taste of Freedom history, visit The Historical Society's charming museum where lemonade and cookies are served to visitors on summer afternoons. Members can also provide a quick sketch of the history of Freedom as seen in the houses standing along the quiet village streets.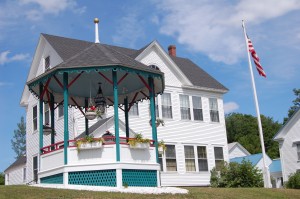 Every year in August the community of Freedom celebrates "Old Home Week", a New Hampshire tradition that was officially recognized by Proclamation in the New Hampshire State Legislature in 1913.
In the Village you'll find the Town Hall, a Protestant church, Masonic Lodge and the Freedom Village Store: a non-profit, volunteer run store where you can get a cup of coffee, buy a newspaper and catch up with your neighbors. Just around the corner, the Public Library is open several days a week.