Welcome to the Town of Freedom
2020 FALL ELECTION INFORMATION
The State Primary Election will take place on Tuesday, September 8; the General Election on Tuesday, November 3. In each case, the polls will be open for voting in person from 8:00 AM to 7:00 PM.
For the protection of all voters and for the protection of all those who volunteer to serve as election workers, all who enter the place of voting will be expected to wear face coverings with both mouth and nose covered for the full time within the place of voting.
Individual face coverings will be provided for those who don't provide their own.
Voters who do not or cannot wear a face covering, as well as voters who for any reason feel uncomfortable voting in person because of COVID-19, can vote by absentee ballot.
To acquire an absentee ballot, you must request an Absentee Ballot Application from Libby Priebe, Freedom Town Clerk. You can do so by going to the Town Municipal Building where there is an envelope with these forms inside the entry foyer; you can request that Libby send you the form by emailing: freedomtownclerk@yahoo.com   or CLICK HERE to download the form.
When the Absentee Ballot Application Form is received by Libby, she will mail you a package with the absentee ballot and the affidavit envelope in which the ballot will be enclosed when you return it to her.
The Absentee Ballot Application Form offers the opportunity to request an absentee ballot for the Primary on September 8 and/or the Election on November 3. The Application Form and Absentee Ballots for the Primary are available NOW.
Because the mail is moving slower than usual during the COVID-19 Pandemic, we encourage you to begin the process NOW for applying for and voting by absentee ballot.
If you have questions about voting in the upcoming elections, contact Don Johnson, Town Moderator, 603-848-9904, johnson.donald.g@gmail.com
---
PUBLIC NOTICE TOWN OFFICE CLOSED TO PUBLIC
Effective Saturday, March 21, 2020, the Freedom Town Offices will be closed to the public until further notice.  Town Office staff will still be working during normal business hours to serve the needs of the public and will be accepting appointments to transact business that cannot be done by mail, online, through email, or over the phone.  Please refer to specific department below for further information:
POLICE – All Emergencies Call 9-1-1
FIRE – All Emergencies Call 9-1-1
There will be no public access to the Freedom Fire-Rescue Department Station on Village Road starting on Friday, 3/20/2020.
The Station will be staffed as usual Monday-Friday 7 AM – 3 PM
The Department will continue to respond to all calls
Call 539-4261 during the day for non-emergency calls or any other business
Fire permits can be obtained online for Category 1 and 2 Campfires as well as Brush Fire Permits
SELECTMEN'S OFFICE & ASSESSING – 539-6323
Offices are closed to the public but staff is available by phone Monday-Thursday from 8:00 AM – 3:00 PM, or by email:  office@townoffreedom.net or townadmin@townoffreedom.net.
Selectmen:  The Selectmen will continue to meet for their regularly scheduled weekly meetings Mondays beginning at 6:30 PM.  Please feel free to submit your comments or questions by email to townadmin@townoffreedom.net or mail to Selectmen, P.O. Box 227, Freedom, NH 03836 or via fax 603-539-8270 and they will be addressed during the public comment portion of the meeting.
Assessing:  All assessing and property tax information can be found on the homepage at www.townoffreedom.net.  All other inquiries can be directed by email to office@townoffreedom.net.  Most forms such as exemption and credit applications, intents to cut, etc. can be found online at https://www.revenue.nh.gov/mun-prop/property/index.htm.  Forms can be sent by mail to Town of Freedom, PO Box 227, Freedom, NH 03836, or dropped off in the hallway at the Town Office.
Tax Collector – 539-5572 Property tax information can be found on the homepage at www.townoffreedom.net.  Tax payments can be mailed to PO Box 458, Freedom, NH 03836, or dropped in the mail slot in the vestibule at the Town Office, 33 Old Portland Road.  Anyone seeking a receipt for their payment can include a self-addressed, postage-paid envelope with payment.  The Tax Collector is in the office Mondays and Wednesdays for phone inquiries only from 11am – 1pm.
Building Inspector & Zoning Office – 539-6323  Applications are available online at www.townoffreedom.net or can be emailed or faxed upon request.  Please call 387-0866 to schedule an inspection, or 539-6323 for an appointment with the Zoning Officer.
 Town Clerk – 539-8269 The Town Clerk is available by appointment only during normal business hours:  Monday 1 – 6pm,  Tuesday 11am – 6pm, Wednesday 9am – 6pm, Saturday 9am – 12pm, or by email to freedomtownclerk@yahoo.com.
Please call during business hours to schedule an appointment for vehicle registrations and renewals, dog licensing, and any other inquiries such as marriage licenses or vital records.
Please continue to check the website for any further updates.  We apologize for any inconvenience and appreciate your cooperation in maintaining the health and safety of all.
---
Click on the button above to access tax assessment cards for Freedom properties
Click on the button above to access tax information for Freedom properties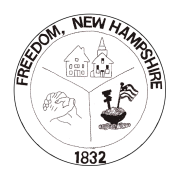 In between the Lakes Region and the White Mountain Region of NH, Freedom is a small town surrounding a little village. Take a walk through the village on a Saturday evening and you'll encounter few cars, but enjoy the white picket fences, well-kept homes and large barns that hint of the towns history.
Freedom? In 1831 the village of North Effingham voted to secede from Effingham, and in 1832, the new town celebrated its independence by changing its name to "Freedom".
For a tangible taste of Freedom history, visit The Historical Society's charming museum where lemonade and cookies are served to visitors on summer afternoons. Members can also provide a quick sketch of the history of Freedom as seen in the houses standing along the quiet village streets.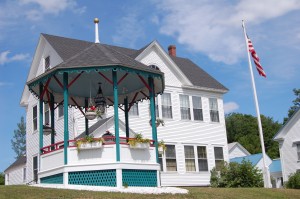 Every year in August the community of Freedom celebrates "Old Home Week", a New Hampshire tradition that was officially recognized by Proclamation in the New Hampshire State Legislature in 1913.
In the Village you'll find the Town Hall, a Protestant church, Masonic Lodge and the Freedom Village Store: a non-profit, volunteer run store where you can get a cup of coffee, buy a newspaper and catch up with your neighbors. Just around the corner, the Public Library is open several days a week.